DIKO ENO Neem Oil Emulsifier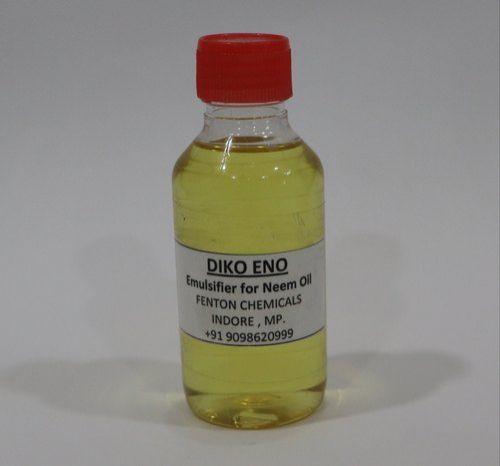 Business Type
Manufacturer, Exporter
Country of Origin
Made in India
Packaging Size
50 Kg / 200 Kg
Brand Name
Fenton
Click to view more
Product Details
Colour
Brownish Yellow Liquid
Introduction:
Neem oil and Karanj oil are extensively used in agriculture as eco-friendly insecticide and fungicide. Since these oils widely vary in composition depending on the geography and method of extraction, only our company provides single component emulsifier that can serve all types of oil due to our in depth reasearch and development .
This single component emulsifier offers complete flexibility to match all compositions of neem oil & Karanj oil and many other oils.
The total dosage of our emulsifier for Neem oil based formulations is 8-10% depending on the type of oil and concentration of EC required.

Specifications:
Active content: Proprietory
Appearance: Pale Yellow to Brown Liquid.
Solubility: Soluble in most oils and organic solvents.

Method of use:
Take 90-92 kg. Neem Oil which must be free from foreign impurities and free from mud and should be filtered with filter cloth or mud settled oil.
Now add 8-10 kg of our emulsifier DIKO ENO slowly under stirring .
Continue stirring for 10-15 minutes.You will get transparent clear emulsion.

Note:
Water will be added by end user at the time of application.
Dosage depends on the quality of ingredients used, if necessary you may add solvent like AROMAX / C-9 (Dosage 4- 5 %) Or as required by you according to quality of vegetable oil.

Important Features Of DIKO ENO
DIKO ENO forms a stable milky white emulsion at 7 to 10 % Dosage with Neem Oil. Hence very cost effective.
Emulsion Formed after adding water using DIKO ENO is stable for 24 hours approx .
DIKO ENO is completely APEO free , hence biodegradable and not harmful to microorganisms and aquatic life.
DIKO ENO is solvent free ( 100 % Active Product ) and hence non toxic and non hazardous and allows you to add solvents as per your choice and requirement.
DIKO ENO can also be used to emulsify Fish Oil, karanja oil and other vegetable oils like groundnut oil, soyabean oil , etc.
DIKO ENO is widely used by farmers and companies for Organic Farming.
DIKO ENO can also be used for Formulation of Abamectin and Emamectin at a dose of 5 to 7 % .
DIKO ENO is widely used in Azadirachtin Based Formulations based on various solvents.
Looking for "
DIKO ENO Neem Oil Emulsifier

" ?
Litre