Water Soluble Liquid Silica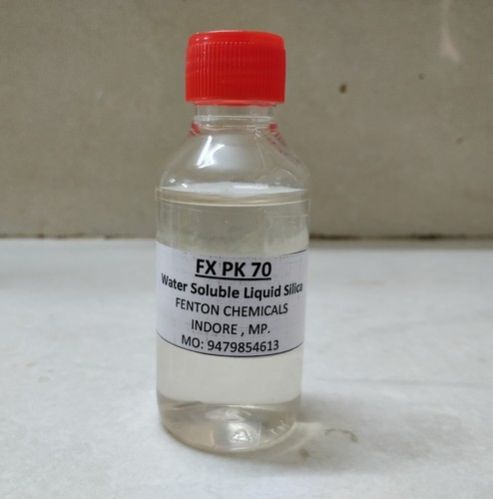 Business Type
Manufacturer, Exporter
Brand Name
Fenton
Country of Origin
Made in India
Usage/Application
Agriculture
Click to view more
Product Details
Packaging Type
Carboys/ Barrels
Packaging Size
50 / 250 L
Dose
Spraying: 2.0- 2.5 ml FX PK 70 per liter of water at 12-15 days interval
Drenching
5-7 ml per liter of water
Crops
Paddy, cotton, citrus, apple, tea, chilli, tomato, cabbage, other vegetable crops, fruit crops and t
Features:
Safe packaging
Purity
Long shelf life

Properties and Uses:
Water soluble Liquid Silicone Dioxide
Completely soluble in water
SiO2 content is 26.25 % by weight.
K2O percentage is 12.50 % by weight.
H2O is 60 % by weight.
Specific Gravity is 1.38
Sio2 to K2O weight ratio is 1:2.10
Viscocity @ 30 Deg C is 250 Cps
Effective against fungal Pathogens, encourages vitality & vigour in plant
It imparts resistance to crops and decreases susceptibility to fungal pathogens and insects
It supplies silicon to the crop which in turn reduces transpiration, salinity stress and water stress
It retards excessive vegetative growth and converts it into reproductive growth of the plant
When drenched in soil, Fento-Liquid Silica effectively deters the entry of mycopathogens into the root system hence can be used as a preventive and curative measure against phytopthora, Rhizoctonia, Fusarium etc
It strengthens the cell wall, helps in shoot development and imparts resistance to the plant against pests and diseases
It can be used to control phytopthora in orange and pomegranate
Dose: Spraying: 2.0- 2.5 ml FX PK 70 per liter of water at 12-15 days interval
Drenching: 5-7 ml per liter of water
Crops: Paddy, cotton, citrus, apple, tea, chilli, tomato, cabbage, other vegetable crops, fruit crops and tuber crops.
Looking for "
Water Soluble Liquid Silica

" ?
Litre