DIKO FIO Fish Oil Emulsifier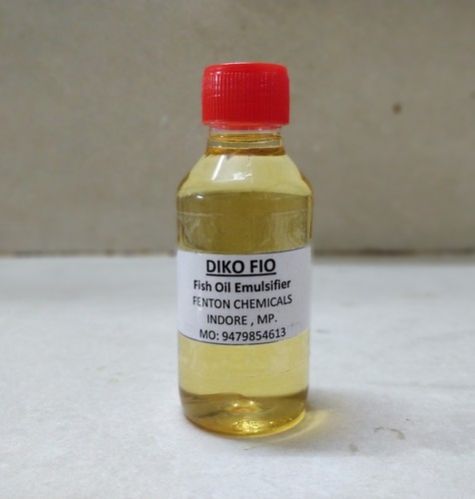 Business Type
Manufacturer, Exporter
Country of Origin
Made in India
Usage/Application
Agriculture
Pack Size
50 Kg/ 200 Kg/ 1000 Kg
Click to view more
Product Details
Pack Type
Carboys/ Barrels/ IBC
Features:
Stability
Balanced composition
Long shelf life
 
Introduction:
Fish oil is extensively used in agriculture as eco-friendly insecticide and fungicide. Our company provides single component emulsifier that can serve all types of oil due to our in depth reasearch and development .
This single component emulsifier offers complete flexibility to match all compositions of neem oil & Fish oil and many other oils.

Dose:
The total dosage of our emulsifier for Fish oil based formulations is 8-10% depending on the type of oil and concentration of EC required.

Specifications:
Active content: Proprietory Blend of Surfactants.
Appearance: Pale Yellow to Brown Liquid.
Solubility: Soluble in most oils and organic solvents.

Method of use:
Take 88-90 kg. Fish Oil which must be free from foreign impurities and free from mud and should be filtered with filter cloth or mud settled oil.
Now add 8-10 kg of our emulsifier DIKO FIO slowly under stirring .
Continue stirring for 10-15 minutes.You will get transparent clear emulsion.

Important Features of DIKO FIO
DIKO FIO forms a stable milky white emulsion at 5 to 10 %, Hence, very cost effective.
Emulsion Formed using DIKO FIO is very stable compared to other emulsifiers.
DIKO FIO is completely alkyl phenol free , hence biodegradable and not harmful to microorganisms and aquatic life.
DIKO FIO is solvent free ( 100 % Active Product ) and hence non toxic and non hazardous and allows you to add solvents as per your choice and requirement.
Looking for "
DIKO FIO Fish Oil Emulsifier

" ?
Litre