Cue Lure Pheromone Concentrate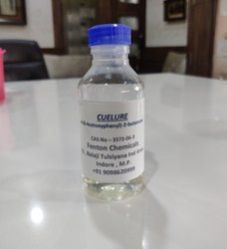 Business Type
Manufacturer, Exporter
Packaging Size
5, 10 ,25 ,50 L
Brand Name
Fenton
Usage/Application
Agriculture
Click to view more
Product Details
Technical Name
Cuelure Pheromones Concentrate
Chemical Name
4-(-4-acetoxyphenyl)-butan-2-one
Molecular Weight
206 g/mol
Timing
Through-out the year
Replacement
Once in 30 – 40 days
Total lures to be used per KM2
8 – 12/ year
Description

The Cuelure is a synthetic product related with the sexual pheromone produced by dipeptra of the Bactrocera genus , highly effective for the management of various fruit flies. It can be used for monitoring populations programs ( monitoring ) as well as management ( mass capture ).
Cuelure is chemically related to the sex pheromone produced by female melon flies to attract males for mating. Pheromones are volatile chemicals produced by a given species to change the behavior of other individuals of the same species. Cuelure will be initially used to attract male melon flies to prevent them from mating and producing the next fly generation. The name cuelure is derived from the Latin name of the target melon fly, Bactrocera cucurbitae (Coquilette). Cuelure is a colorless to pale yellow liquid . It volatilizes slowly. Tests show that cuelure attracts male melon flies more effectively than the unmodified sex pheromone.

Fruit Flies Attracted To Cuelure Block
Bactrocera cucurbitae
Bactrocera newmanii
Bactrocera tryoni
Bactrocera neohumeralis
Bactrocera frauenfeldi
Bactrocera nigrotibialis

Usage Sites: Cuelure is expected to be used initially in producing end products that attract and inactivate melon flies on such crops as Cucumber, Gherkin, Melons, Pumpkin, Bitter gourd, Coccinia (Little gourd), Snake gourd, Ridge gourd, Bottle gourd & other Cucurbitaceous crops and some fruits (Mango, Guava, Sapota, Citrus etc).
Technical Specification
| | | |
| --- | --- | --- |
| TEST PARAMETERS | STANDARDS | ACTUAL RESULTS |
| Appearance | Clear Liquid | Clear Liquid |
| Color | Light Pale Yellow | Light Pale Yellow |
| Refractive Index | 1.505 – 1.520 | 1.51 |
| Density (g/ml )at 200C | 1.000 – 1.110 g/ml | 1.099 g/ml |
| Assay ( GC ) | Min 97% | 0.99 |
Looking for "
Cue Lure Pheromone Concentrate

" ?
Litre